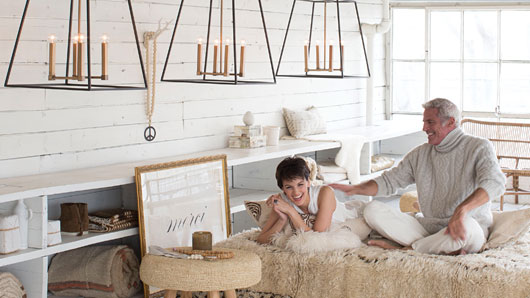 When lighting a bedroom, you will want to create an overall atmosphere of quiet relaxation, while providing some bright spots for reading and other activities. A combination of general and task lighting that takes into account the age and lifestyle of the occupant(s) is needed. Remember, dimming controls give you the flexibility to vary the light to suit different moods and activities.
Wall-Mounted Fixtures can furnish general, task, and accent lighting. Today's choices of wall-mounted fixtures is vast. You can select a decorative theme that can be carried throughout the home or a look designed to blend into your bedroom decor.
Semi Flush or Ceiling Fixtures provide general lighting. They are practical in areas such as foyers, hallways, bedrooms, kitchens, baths, laundry rooms, playrooms, and dens. They are available with incandescent, fluorescent, halogen, xenon, and energy-efficient compact fluorescent bulbs.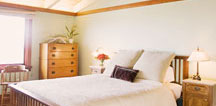 Another idea is to hang pendants next to the bed, or install recessed downlights in the ceiling over the bed. A way of directing light over the top of the bed is to properly place two recessed lights independently switched to control each light individually.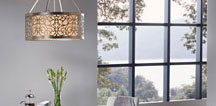 General, ambient lighting can be provided by ceiling fixtures, chandeliers, fan lights, recessed downlights or wall sconces, giving you the illumination you need to dress and see into drawers and closets.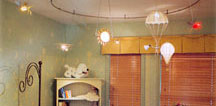 Children's rooms will benefit from the use of properly placed track lights, which can be swiveled, rotated, and aimed in a direction to shed light on play areas, hobbies, or homework. As the child grows older, the fixtures can be moved and redirected toward a stereo cabinet or sitting area.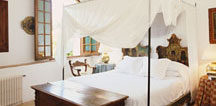 For closets, recessed or close-to-the-ceiling fixtures give you good general lighting without taking up much space. Closets are a good place to save energy by using compact fluorescent bulbs.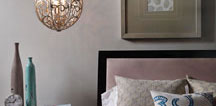 Next to the bed, portable lamps provide plenty of light for reading, or you can install swing-arm wall lamps to free up the space on your end tables. Another idea is to hang pendants next to the bed or install recessed downlights in the ceiling over the bed.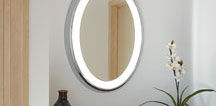 At the dressing table, a table along with a lighted magnifying mirror will provide ideal lighting for grooming and applying makeup.