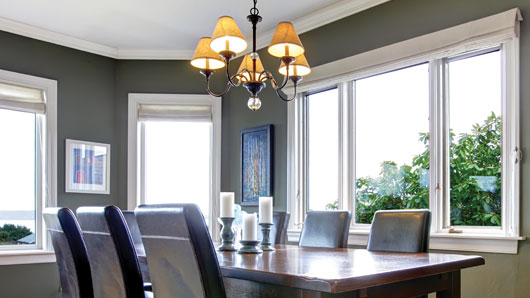 Dining room lighting should be both beautiful and functional. This requires a mix of general, task, and accent lighting that can set the mood for a number of functions, including a formal dinner, a family get-together, and other activities such as homework, hobbies, or family bookkeeping. Dimming controls will enable you to vary the light for each occasion.
Chandeliers can add sparkle and style to your dining room while giving you the general lighting you need for dining and entertaining. Chandeliers can have either direct or indirect light. From traditional to contemporary, the choices of finish, light source and style make it easy to find the perfect fixture for your decor. The addition of a dimmer control lets you alter the intensity of light to suit the mood and activity.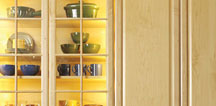 A china cabinet, breakfast, hutch, or wall niche can be become a showplace for your prized collectibles by installing lighting that is correctly placed within the unit.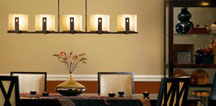 A buffet or sideboard can be flanked with wall sconces on either side. Choose fixtures that complement the style of your chandelier. Displayed objects can be accented with recessed downlights installed in the ceiling above.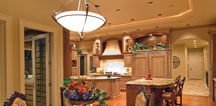 A chandelier is the focal point of the dining room. Suspended over the dining table, it serves as a decorative style element that enhances the beauty of your fine furnishing. When the light is dimmed, a soft, glowing atmosphere similar to candlelight is created.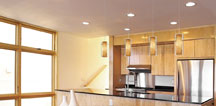 Recessed or track lighting provides general lighting, while enabling you to highlight prized possessions throughout the room. A ring of four recessed downlights around the dining table supplements the light from the chandelier, while providing accent lighting for your tableware. The pure white light of low-voltage fixtures with tungsten-halogen bulbs will make your crystal and silverware sparkle.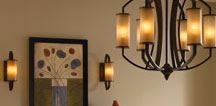 A family portrait can be dramatically lighted with recessed adjustable accent fixtures. Ask our lighting experts to help you choose fixtures that are best suited for this purpose.